How do you measure your Tread ?
Measuring Stair Treads
When measuring for your custom stair treads, please double check for accuracy of measurement. If you are ordering multiple treads for multiple steps, please measure each step because sizes may vary a little.. You can use the contact us button if you need several treads at various sizes or if you have any questions before ordering.
When measuring for stair treads, you will want to measure two parts of your stairs. The first is the depth of the step from the back of the step to the front of the step. You may want to do this in a couple of places to make sure your framing is square.
The second part you will measure will be the width of the run. This is the distance across the widest part of your stairs from wall to wall, wall to open end of run, edge of stair frame to edge of stair frame. This will give you the size of the tread you will need. If your measurement is 42″ you need a 42″ tread. This works even for our single return treads, double return treads, and our starter treads.

Step1 -- the picture showing how to measure the stair riser. Correct size is 7" Height.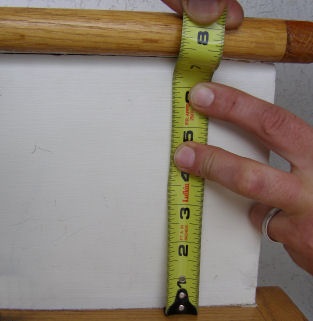 Step 2 --the picture showing how to measure the stair tread.
Depth: 11-1/2" including nose.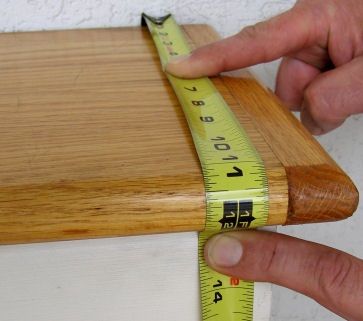 Step 3 -- count how many risers you have on the staircase.


Step 4 -- count how many treads you have on your staircase

Step 5 --using the calculator get the correct result.